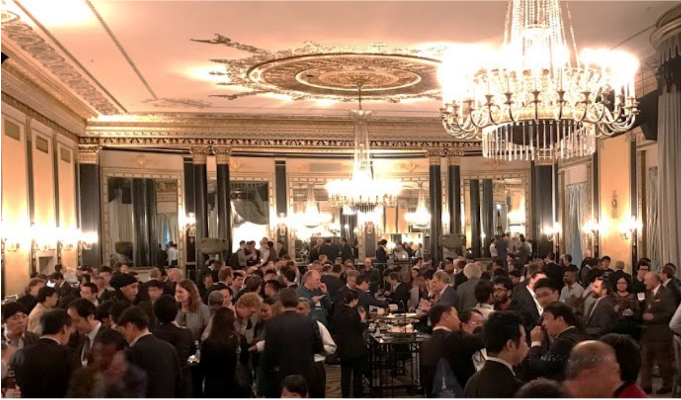 In 2019, we had the privilege of hearing Hershey Felder at the annual CJE SeniorLife Annual Benefit Banquet, where some 500 guests were seated around 6 foot tables in the Palmer House Hilton Ball room (see Palmer House picture).
The conversations during dinner were enthusiastic, so the noise level reached 80 dBA, at which point we found that it was impossible to understand anyone except for the person seated next to us.
Later, in the MCK Audio lab, we used a KEMAR manikin (with microphones at the "eardrum" positions) for recordings.
For "banquet noise," we played back our standard "Lou Malnati's Restaurant noise" recordings at different SPLs, and made KEMAR recordings with CM-4 Companion Mic units clipped to our masks under three conditions:
KEMAR's open ears
KEMAR wearing a single open-ear "HearHook™ earphone
KEMAR wearing a pair of ear-sealing high-fidelity earphones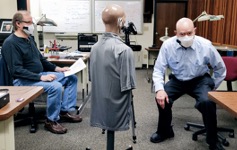 Recording with the KEMAR manikin.
Mead was making a point when this picture was taken, but the 6 feet Talker-KEMAR distances are evident.

As heard – and seen from the data on the graph below, the improvement from a) listening from 6 feet across the table unaided, to b) listening through the CM4 Companion Mics system with ear-sealing earphones was 20 dB.
While the pair of ear-sealing gave the best noise rejection, the single "HearHook" earphone gave next best and allowed the listeners to hear what was going on around them.